Digitalisierung in der kulturellen Bildung: Forschungsergebnisse der BMBF-Förderlinie
Digitalisierung in der kulturellen Bildung: Forschungsergebnisse des BMBF-Förderlinie können nun nachgelesen werden in dem Open-Access-Band herausgegeben von Jörissen, Kröner, Birnbaum, Krämer und Schmiedl: https://doi.org/10.25656/01:26963
Neben Forschungsergebnissen aus der Förderlinie im Steckbriefformat werden ausgewählte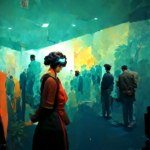 thematische und methodische Aspekte rund um das Forschungsfeld der (post-)digitalen kulturellen Bildung ausführlicher behandelt. Schließlich werden die durchgeführten Projekte in die internationale Forschung eingeordnet. Das Buch schließt mit einem Ausblick darauf, welche Transformationsprozesse das Forschungsfeld der kulturellen Bildung aktuell durchläuft.
Digitalization in Cultural Education: Research findings from the BMBF funding initiative are now available for reference in the Open-Access volume edited by Jörissen, Kröner, Birnbaum, Krämer, and Schmiedl: https://doi.org/10.25656/01:26963
In addition to research results presented in a briefing format from the funding initiative, selected thematic and methodological aspects related to the field of (post-)digital cultural education are explored in greater detail. Furthermore, the conducted projects are contextualized within international research. The book concludes by providing an outlook on the ongoing transformation processes within the field of cultural education.