Sophie Uhing, M.A.
Sophie Uhing, M.A.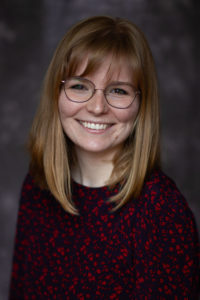 Email: sophie.uhing@fau.de
Room U1.0281
Regensburger Str. 160, 90478 Nürnberg
Consultations by appointment
Education
Abitur and French Baccalauréat (Abi-Bac), Tulla-Gymnasium Rastatt (2015)
Semester abroad, Laval University, Québec, Canada (01/2019-05/2019)
Classes in Sociology, History and Politics
BA in European Studies, University of Passau (2020)
Specialisations: Sociology, French
MA in Empirical-Educational Research, FAU Erlangen-Nürnberg (2022)
Professional Career
International voluntary service in the International Youth Meeting Place (IJBS) in Oświᶒcim/Auschwitz (09/2015 – 08/2016)
Internship, Konrad Adenauer Foundation, Dakar, Senegal (10/2018 – 12/2018)
Tutor for the lecture "Introduction to French Cultural Studies", University of Passau (10/2019 – 02/2020)
Paid Internship Empirical – Educational Research, FAU Erlangen-Nürnberg (04/2021 – 09/2022)
Research associate Empirical – Educational Research, FAU Erlangen-Nürnberg (10/2022 – ongoing)
Grants and Third-Party Funded Projects
Co-Principal Investigator: Mädchen, MINT und Making, Symposium, 2023, Funding: Gefördert mit Mitteln des Freistaats Bayerns zur Realisierung der Chancengleichheit für Frauen in Forschung und Lehre
Collaboration in Research Projects
Selected Conference Contributions
Uhing, S., Smolarczyk, K. &  Kröner, S. (2023, Februar-März). EnvironMINT. Gelingensbedingungen für eine erfolgreiche Zusammenarbeit von Kindern, Eltern, Schulen und FabLabs für nachhaltige MINT-bezogene Maker-Aktivitäten. [Poster presentation ]. Gesellschaft für Empirische Bildungsforschung, Essen.
Uhing, S. (2021, October). Abi-Bac – Der Weg zu mehr Europa? Ein empirischer Vergleich der Einstellungen zu Europa, Frankreich und Kontaktbereitschaft von Jugendlichen im bilingualen und nicht-bilingualen Französischunterricht an Gymnasien in Baden-Württemberg. Präsentation auf der Sektionstagung "Europa im Fremdsprachenunterricht" des  XXXVII. Romanistentags 2021, Augsburg – online.